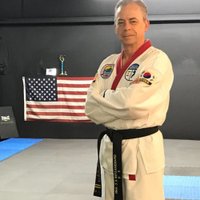 Tae Kwon-Do
Taught by Eric Hoffman - 3rd-degree Black Belt
Class Schedule
Monday
White, Orange, and Green Belts
04:30 pm - 05:15 pm
Yellow Belts
05:15 pm - 06:00 pm
Thursday
White, Orange, and Green Belts
04:30 pm - 05:15 pm
Yellow Belts
05:15 pm - 06:00 pm
Saturday
Everyone
11:30 am - 12:30 pm
About the Class
Taekwondo is a popular martial art and international sport. It is the most practiced martial art in the world. Korean masters brought Taekwondo to the United States in the 1950's. Introduced as a demonstration event at the 1988 Seoul Olympics, Taekwondo became a full medal Olympic competition sport at the 2000 games in Sydney Australia. Taekwondo is a stand-up martial art like karate, kungfu, and kickboxing that emphasizes defending oneself while staying on your feet. It teaches kicking, blocking, hand techniques, forms, balance, and discipline of the body and mind.
Griffin Taekwondo meets on Mondays, Thursdays, and Saturdays and welcomes students from age six to adult and encourages the whole family to give it a try! The Hoffman family all earned their belts together, and the family that spars together wins together! But if you just want to bring the kids and watch them grow in skills and confidence- that's fine too!
To try out a class, give Eric a call and let him know when you're coming. For your first class, wear comfortable gym clothes and don't worry about your shoes since Taekwondo, like most martial arts, is practiced barefoot.